Welcome to our new web site. We are a easy one stop shop for all of your events, rentals, or productions. Our goal is to make your event everything you envisioned it to be. Our staff are very personable and passionate about what they do and would be happy to help you in anyway they can. We feel that every event is something unique and special, thus deserves that custom personal touch. Let us take great care of you. Please feel free to contact with any questions you might have. We work with both big and small budgets.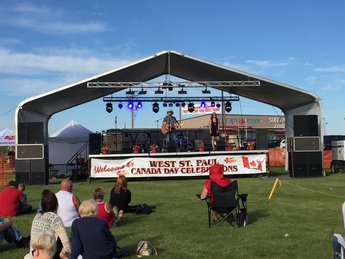 LIGHTING / AUDIO / CONCERT STAGING / VIDEO IMEG
We have the talent and capabilty to make your event something to remember. We've done Rock shows, private functions, corporate functions, Folklorama, aniversary's/weddings/birthday parties, fund raisers, charity events, religious events, and everything in-between. Whether its full live production, installaiotns or simply a rental, we can take great care of you.
---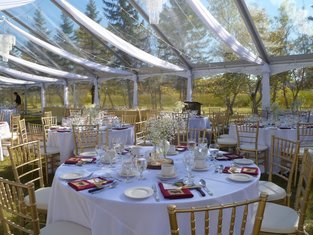 TENTS, TENTS, TENTS
We have the tent you need! We feature tents that have NO CENTER POLES. That means you have full complete freedom to design, decorate and set-up the tent howver you choose. Our smallest tent is a quick set-up pop-up style 10x10 tent; great for festival booths or even a catering tent. We have hip roof frame tents from 15x15 up to 40x80, all featuring block-out roof fabric to keep the suns hot rays off you during peak hours. Our very large and beautiful clear span works in the 40x15 up to 40 x 110 lengths. For those really big events our clearpsan also can go up to 50'w x 100'l. For those wanting a tent that can capture their amazing surroundings, may I present our clear top tents, they are truly awe inspiring.
---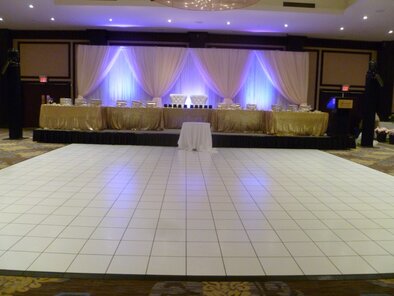 ACCESSSORIES
Event floor - both Ultradeck & Surlok flooring systems
Dance Floor - featuring Signatures Dance Deck available in either white/black/warm oak colours
Lighting <Stage lighting, moving head, follow-spot, C7 string & cafe bistro style string lighting, Fairy Lighting strings, LED <brick/bar/par>, chandeliers, f/x lighting & Atmospheric effects such as bubbles/ fog/ haze>
Tables - Round, Cocktail, Banquet Tables in both wood and heavy duty resin
NEW** 9' x 40" Farm Tables
Chairs - black plastic, white Resin, white Chavari and Espresso X-back <aka: farm chairs>
Wheel Chair Ramp for stage heights of up to 24"

Risers & Staging - All terrain format with frames from 18" up to 60" in height, decks are dual surface <black/grey carpet>
Pipe & Drape - black black out, black banjo, black poly premier, and white satin
NEW Cedar Garden Arbor
---
CONTACT: Daryl via phone #(204) 487-1207 or cell # (204) 791-4914 <TXT is good as well> or email : daryl@dliteinc.com