Welcome to the home of D'Lite Tent & Event inc.
D'Lite Tent & Event is an easy one stop shop for all of your events, rentals, or productions. Our goal is to make your event everything you envisioned it to be. Our staff are very personable and passionate about what they do. They would be happy to help you in anyway they can. We feel that every event is something unique and special, thus deserves that custom personal touch. Let us take great care of you. Please feel free to contact with any questions you might have. We work with both big and small budgets. Together we are making In-Tents dreams come true:) Please proceed to the bottom of this page for quoting and booking options now.

** SPECIAL NOTE : We are now quickly approaching fully booked for the summer months of 2023 in terms of our available tent rentals. We do still have selected open spots for tent rentals as follows:
​All weekends in May, June 9-12, June 16-19, July 14-17, Aug 11-14, Sept 1-4, Sept 29 thru till Oct 14 in 2023. We would also gladly book you into 2024 if you would prefer.
TENTS, TENTS, TENTS - in both Clear Top & White Top versions!
YES, we have the tent you need! All of our tents are structure based tents so they all feature NO CENTER POLES and have a full aluminum skeleton. This means you have the freedom to decorate and set-up the tent however you choose.
* Our smallest tent is a quick set-up pop-up style in either a 10x10 or 10x20 tent; great for festival booths or even a catering tent.
* We carry hip roof frame tents from 10x0 up to 30x60, all featuring block-out roof fabric to keep the suns hot rays off you during peak hours and now we carry a few in clear top as well in our Trio line.
* Our very beautiful & strong Clear-Span structure is currently available only in a white top tent in lengths of 40x30 up to 40 x 90.
* Our amazing hybrid gable roof Keder frame tents allow you to have clear top / white top / or a combination of both. These tents are truly awe inspiring and are sure to have all your guests gushing for months after your event.
These currently come in 2 different widths: our Anchor F3 & Olympic M3 versions in a 30'width, or our Olympic M4 & Anchor N4 brands in a 40'width.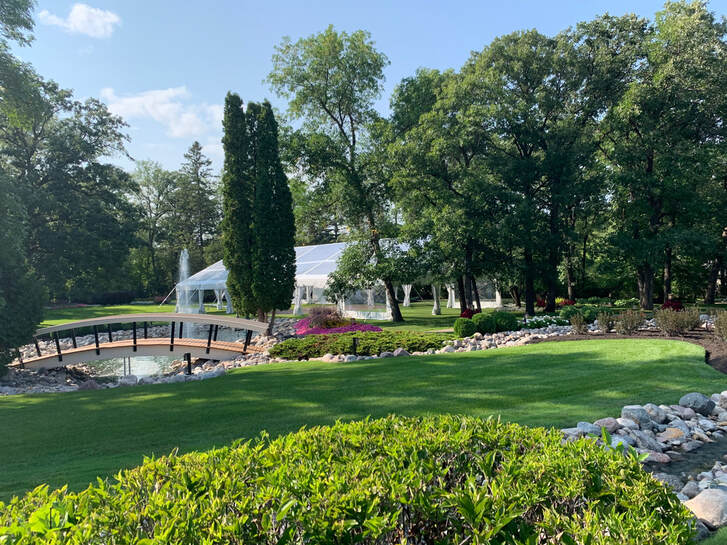 LIGHTING / AUDIO / CONCERT STAGING
We have the talent and capabilty to make your event something to remember. We've done it all from Rock shows, private functions, corporate functions, Folklorama, aniversary's/weddings/birthday parties, fund raisers, charity events, religious events, and everything in-between. Whether its full live production, installations, or simply a rental, we can take great care of you. We are happy to say that we supplied 6x of Folklorama's 2022 Pavilions with audio/lighting/video technology.

We have been taking care of Winnipeg schools for over 20 years now helping them with all their audio, staging and lighting needs - be it Christmas plays, musicals, or spring break recitals - and we are always happy to help you teach your valued students how to operate our gear - it would really add a tangible buy in for your students at your next event!

We have been outfitting and training many Houses of Worship teams for over 30 years from all over our great province. We provide full hands on training & seminars, using the gear you already have. We can provide you with everything from a simply estimate to complete install and future training for all of your technical requirements. We are NOT a one size fits all type of dealer. We choose from a extensive list of hand picked suppliers and brands for the best equipment to fulfill your individual requirements. We are personally familiar with HOW budgets work & how worship teams function from our time well spent serving on various technical and worship teams. We know that every performance or theater style building, regardless of faith or its intended use, is created differently, and they should all be handled that way ... it seem too many HOW's & theatres have been seen with the exact same gear regardless of size or format of the venue - it has become a telling sign that this event supplier had his own personal sell list and definitely not that facility's specific needs at the top of their list. Check us out out and see why we are different.

** the photo below is the Greek Pavilion 2019 RBC Convention Center with audio, lighting, and video services supplied
TENT & EVENT ACCESSSORIES
EVENT FLOOR - Featuring Ultradeck & Surlok flooring systems to help protect your surface. We carry over 3000 ft2 in each!
DANCE FLOOR - We carry more dance floor than almost anyone in Manitoba. We use Signature Dance Deck and carry extensive amounts in white slate / black slate / warm oak colours
NEW we now carry artificial turf so your events can be on simulated grass and have that full lawn gorgeous look.
EVENT Lighting - Our tents use Bistro lighting strings (also called Edison lighting) that create that "Paris at night" look that is so very popular. We also carry Fairy Lighting, LED uplighting <bar or par versions>, and 4x different types of Chandeliers to really help create the proper lighting effect you desire
STAGE Lighting - Truss systems, follow spots, wash lighting, ellipsoidal, moving heads, and everything in-between
ATMOSPHERIC Units - From hazers to fog machines to ground hugging foggers, and even bubble machines to keep the party fun
TABLES - 48" & 60" Round, Serpentine, 30" Cocktail, 4'/6'/8' Banquet tables.
FARM TABLE & CHAIRS - Our custom finished farms tables are done in a deep espresso finish and feature a huge 9' x 40" plank top with true 4x4 folding leg system. Our matching X-Back (aka Farm) chairs are so comfortable and provide that country charm yet still exuding that elegant style feeling.
Chairs - From the standard white resin padded folding chairs to the glamorous Chiavari, these are the chairs to create that perfect wedding feel while still remaining comfortable to all your guests. If the event is not to be so formal then our extremely comfortable fan back plastic/metal chairs are exactly what you need at a price you can afford to rent, available in both White or Black colors.
WINE BARRELS - finished to match our Farm tables & chair collection, they add that special something to your event. They can be outfitted with cocktail tops as well to serve as a type of cocktail table.
PIPE & DRAPE - We carry Back velour type fabric for that stage back drop to help the stage lighting pop out correct and clean up that sound spill from the stage. We also carry black umbra (satin finish) fabric that provided a block out style of fabric , perfect for keeping lighting or eyes from seeing things you don't want them to ... all in a bestuifyl finish. We also carry the typical banjo fabric & the up scale Poly Premier in black, perfect for creating boundaries or booths. If you need something a little more elegant that we also carry white organza & white satin drapery, the perfect fabric for wedding backdrops.
CEILING SWAG - We use a custom fit white crushed taffeta to create those beautiful beams of fabric our tents ... it so much nicer than the typical white organza stuff, but we have that too if you want:)
BARS - We carry a simple yet functional 60"w black bar and our brand new pro level curved top bar with integrated LED lighting and a choice of either white acrylic or a wood/pallet looking front.
WHITE COLONNADE SYSTEM - Want something a little more traditionally Greek or Italian, we carry a full white 9pc modular colonnade arch system
PODUIM - we have a custom made aluminum truss podium. Available with either a black or white top and even LED uplighting as wel. we also have a new Rustic version for a more wood nature type of look.
TENT HEATERS & CHILLERS - need to make your rented tent more comfortable for your guests? We carry both heating and cooling systems to help make the temperature more comfortable for you & your guests.
AUDIO - we carry audio systems ranging from the simplest battery operate speaker system for an outdoor ceremony, up to the full out hard partying rock show or captivating theatre presentation event.
VIDEO PROJECTION - do you need to show some embarrassing slides at an up coming wedding or maybe need to be larger than life for a presentation ... we have the video tools to help you look your best.
TENT BALLAST SYSTEMS - we use the Block N Roll concrete ballast systems to help hold down our tents when they need to be deployed on sensitive ground.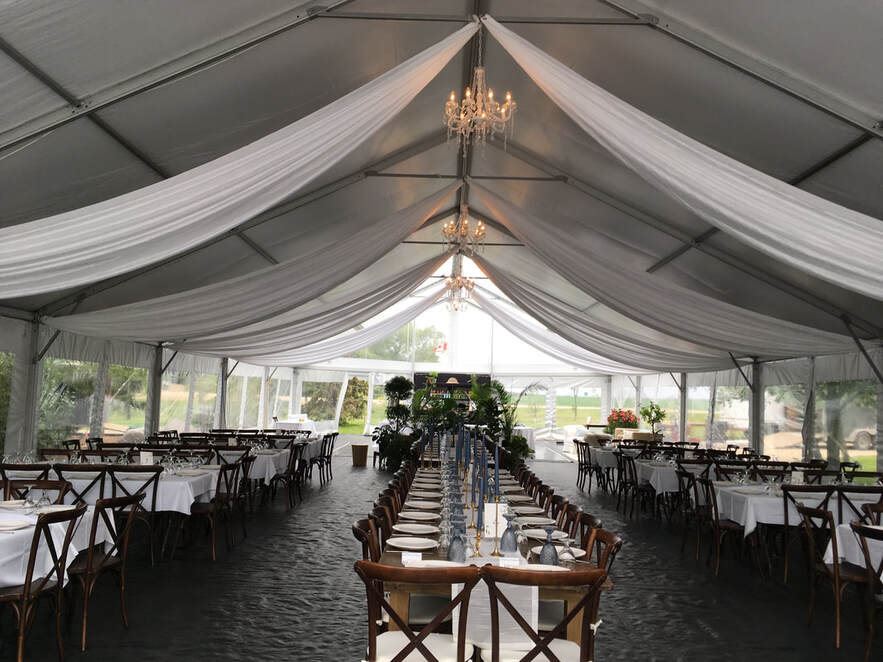 STAGING & RISERS
STAGING & RISERS - when you are having people or even items raised off the ground, special care needs to be exercised when doing this. This is why we researched every staging provider in the western hemisphere (and few that were over seas) and decided on the the original high performance staging system from Stage Right Industries. This stage system uses a proven conical node system, one node for every corner of every deck, so it all stays exactly were it was placed, no matter what the function is on top. All of our stage frames are very height adjustable, so yes we can match up to your existing stage or even solve that terrain problem, either inside and outdoors. Our 2-sided stage decks are constructed with a composite sandwich construction making them less prone to that annoying stage boom that seemingly all Wanger and other similar style stages exhibit. This composite construction also has a better "give" factor that helps protect dancers from those ankle and knee injuries during long performances that other traditional stages tend to inflict. Our stage decks feat 2x different sides on each of them: a hard black fibreglass surface for the traditional setting, and a light grey commercial carpet on the other side, so your corporate function can have that warmer look & quieter surface ... also no extra carpet to rent & no carpet tape needed to trip up on! Provincial codes require railings on any stage over 24" height, so yes we carry those as well. All of our stages are rented with black box pleated front stage skirting and the appropriate stairs for them.
WHEEL CHAIR RAMP - We carry a fully ADA certified 24"h Wheel chair ramp that can be added to any one of our stages or even retrofitted to stage that isn't ours.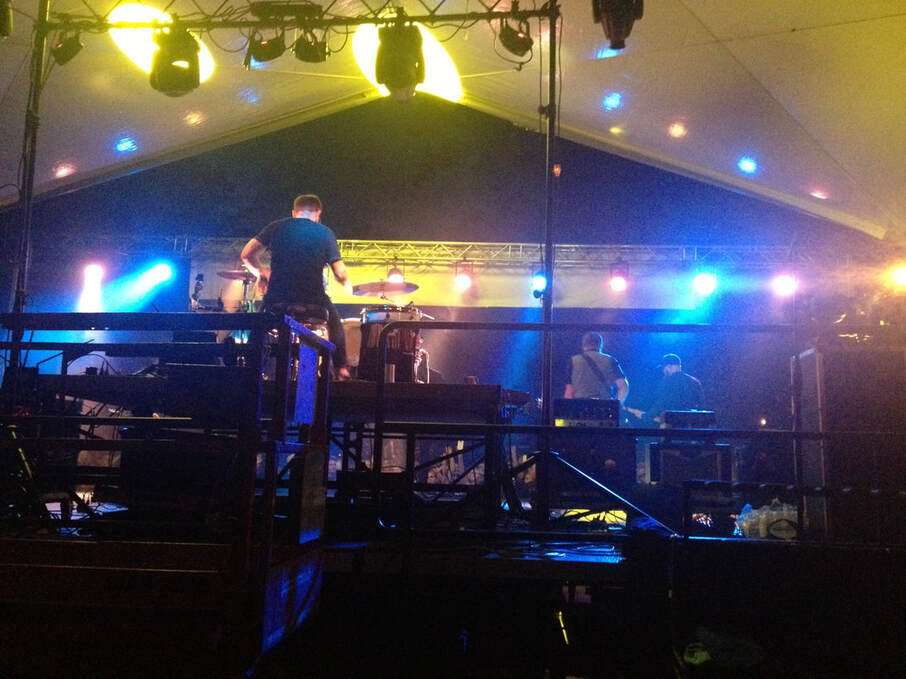 CLICK below to download our new quote request form or contact us to reserve yours now!
CONTACT INFORMATION:
PHONE: office #(204) 487-1207 <please leave your voice message on this number if we were not able to answer your call>
cell # (204) 791-4914 <TEXT is always a great way to quickly communicate with us as well>
EMAIL: daryl@dliteinc.com